Have you ever wondered why some gold buyers offer "free" return envelopes, mail-in kits or "GoldExpress Kits" to mail in your unwanted gold?
Gold Buyers or Pawn Shops offering their customers so-called "free" mail-in kits is just a deceptive way to lure people wanting to sell their unwanted jewelry or precious metals to do business with them. Like every other business, gold buyers want to make profit. Return envelopes, however, are not free to the gold buyer offering them. They actually cost about twice the amount of regular shipping since they first have to be mailed to you and then back again to the gold buyer later. In addition, since they have to be pre-paid to the carrier, the gold buyer also has to pay full price for each return envelope that never gets mailed in, generating additional costs. So gold buyers that send "free" mail-in kits to everyone who orders them have to be sure that they can compensate this initial loss. In the end, somebody always has to pay for these "free" envelopes and mail-in kits. And guess who! It's always the customer. These gold buyers will either offer lower payouts for your items, or they might even be tempted to cheat when weighing and testing your material.
To clarify what these "free" envelopes will actually cost the customers, we prepared the following example for you: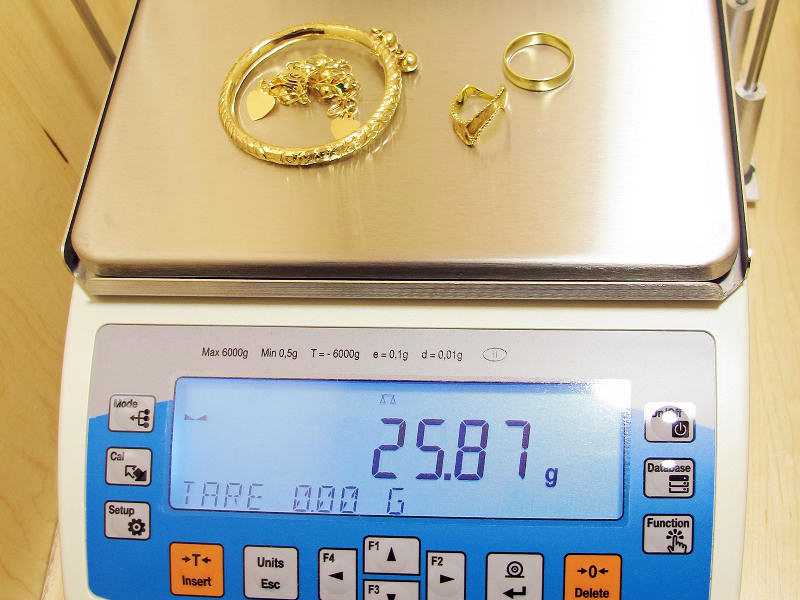 A customer from Alberta sent us an envelope with the following items: 2 rings and 2 bracelets made of 18 karat gold that weighed 25.87g in total. On August 16th 2018, at the spot price of $1544.06 per troy ounce for Gold, we offered our customer $770.55 for her jewelry and she accepted.
We then called the hotline of one of our competitors that offers "free" GoldExpress Kits to get a quote for comparison. We gave them the weight (25.87g) of our customers 18 karat gold items and asked how much they would pay if we were to send them in with their GoldExpress Kit. For the same items, they only offered $476.78.
That is a whopping $293.77 less than we had paid our customer for the same items!!
Of course, we have to account for the shipping fees that our customer had to pay herself. Shipping her jewelry from Edmonton to our facility in Barrie in a 25 x 19 x 5 cm bubble wrap envelope with Canada Post Xpresspost as tracked and insured package cost her $22.85 and about $2 for the bubble wrap envelope.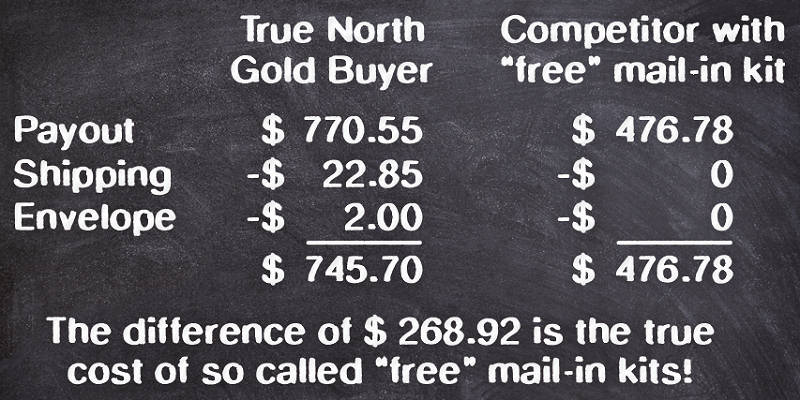 Bottom line: By resisting the temptation of our competitor's "free" GoldExpress Kit and instead paying for shipping herself and shipping directly to True North Gold Buyer, she got $268.92 more for her jewelry!
So the so-called "free" shipping via the GoldExpress Kit offered by our competitors effectively would have cost the customer $268.92.
The punch line to this comparison: "If something sounds too good to be true, it probably is."