Your Yukon Gold Buyer
True North Gold Buyer Ltd., we are your gold, silver and platinum buyers for Whitehorse, Dawson City, Faro, Watson Lake and Canada wide. We offer top prices for your old gold, silver or platinum containing items and jewellery, such as rings, bracelets, necklaces, earrings, watches, coins, bars, silverware, crucibles, thermocouples or dental gold.
We pay top dollar for your precious metals containing material. As a part of our 100% satisfaction guarantee we will beat any other online silver, platinum or gold buyers offer for your jewellery, coins or scrap metal in the unlikely event that somebody will offer you a higher payout. You will see that a lot of our competitors only pay a fraction of your metals value, if you add up the numbers and to hide the fact, many of them do not even give you any up to date pricing until you have actually send your material in and would have to go to some hassle to get it back if you do not like their payout.
We put transparency and customer satisfaction first and therefore offer you a Payout Estimator that will give you a close estimation of what your payout is going to be – based on live precious metals market values. The only thing you need to know is the karat / precious metal content of your coins, jewellery or scrap metal and the weight – our estimator will do the rest. For detailed instructions on how to prepare your items for shipping & how to use the Payout Estimator please refer to our "How it works" section.
At True North Gold Buyer our main goal is to have satisfied, repeat customers – not one time deals taking advantage of customers that will never come back. We want to set us apart from the other known gold buyers and their bad reputation.
For your convenience, below you will find a list of Yukon areas we service. Our service is not limited to these areas. We will buy your precious metals all across Yukon and Canada.
Gold buyer for all Yukon communities
Beaver Creek
Burwash Landing
Carcross
Carmacks
Champagne
Dawson (City)
Destruction Bay
Faro
Haines Junction
Ibex Valley
Keno City
Marsh Lake
Mayo
Mount Lorne
Old Crow
Pelly Crossing
Ross River
Tagish
Teslin
Upper Liard
Watson Lake
Whitehorse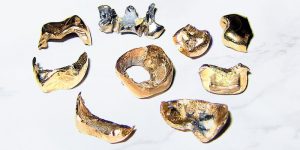 Gold teeth are a form of dental prosthesis. They are sometimes used for cosmetic purposes.
Dental restoration
Dentists have used gold for filling cavities (before mercury amalgam became available), for crowns, and for other purposes. Gold is malleable, nearly immune to corrosion, and hard enough to form a biting surface that can be used for years. Gold had been used before silver was available and continued to be used for specialized purposes. After 1980, gold inlays, and gold foil work became rare in the United States.
Cosmetic uses
In certain regions of the world, especially in the former Soviet Central Asia and the Caucasus, gold teeth are worn as a status symbol, a symbol of wealth. Originally the most expensive historical dental prosthetic, these are sometimes now installed in place of healthy teeth or as crowns over filed-down healthy teeth.

Grills, false tooth covers made of metal, have become a popular hip hop fashion in the United States. While some rap musicians have had their gold teeth permanently attached to existing teeth, most people who purchase them for aesthetic purposes opt for removable gold teeth caps. In 2005, Nelly released the rap single Grillz which promotes the dental apparatus.

Gold teeth as a fashion statement began in Miami Florida sometime in the 1960s, but it wasn't until the 1980s that gold teeth became popular in the hip-hop world.