Your Prince Edward Island Gold Buyer
Wondering where to get the most cash for gold?
Selling Gold Jewelry, Gold Coins, Gold Bars or Scrap Gold to True North Gold Buyer
We are one of the fastest and highest paying Canadian buyers of gold, silver and other precious metals and offer our services to all Prince Edward Island communities and towns like Charlottetown, Summerside, Stratford, Cornwall, Montague, Belfast, Kensington and in all of Canada. We pay top prices for old gold, silver or platinum containing items and jewelry such as rings, bracelets, necklaces, earrings, watches, coins, rods, silverware, crucibles, thermocouples or dental gold.
Why buy and sell gold and silver online with True North Gold Buyer?
By not wasting your money on local stores or free mail-in kits, we can cut costs and therefore give you the highest payouts in the market.
Have you ever wondered why you can buy the same item at a much lower price from an online store, like Amazon, than at the local store in your mall? There's a simple reason for this: Amazon's strategy has always focused on running an efficient online business to offer its customers the best prices, instead of wasting their customers' money on a network of expensive local retail stores.
We use the same principle to make sure you get the most cash out of your gold. True North Gold Buyer is a registered Canadian online business. We analyze and refine all precious metals in a secure, central location. In addition, we keep overheads low by not spending the value of your gold on retail stores, vendors, or "free" return envelopes. This means that all the money goes directly back to you as a higher payout compared to what local competitors can offer you.
Searching for a high-paying gold buyer near you?
Are there no gold buyers near you or just one who does not pay well due to lack of competition? Our professional online service can help you with this problem. We pay prices that beat local gold buyers and pawn shops even in larger cities where there is a lot of competition.
All you need is access to a post office and you have access to True North Gold Buyer.
Highest payouts from the start! No lowball offers, no haggling!
We are always open and honest about our payout rates.
We pay fair, market-based prices for all gold, silver or platinum items we buy, with no hidden fees. When you do business with us, you are guaranteed to get the most cash for your gold from the start.
To calculate what we pay for your items even before sending them to us, simply use our payout estimator. You just have to know the gold content of your items and have a scale to weigh them.
We always strive to provide the highest levels of service to make sure you are 100% satisfied and we consistently strive to earn repeat business and referrals.
For our satisfied customers, we offer a referral program that pays you 1% of every business transaction we receive through you.
How do you ship your gold, silver or platinum to us?
With the help of our payout estimator you can easily calculate your payout. You will also receive a pre-filled shipping label that you can print and put on your package. Choose a carrier and service (we recommend Canada Post - Xpresspost with tracking) and send your items to:
TNGB LIMITED
PO BOX 22027 BIG BAY POINT
BARRIE ON L4N 0Z5
No "free" mail-in kits?
Free mail-in kits do not exist. Customers always pay for these kits in one way or another.
Our goal is to give you the most cash for your gold, and that's only possible because we're not squandering your money on prepaid envelopes and kits. Competitors who lure you with so-called "free" mail-in kits force you not only to pay for your kit, but also for all ordered kits that are never shipped. They cover these costs either through lower payouts or by incorrect weighing and testing. In our blog, we compare our payout for a customer's items with what a competitor with "free" mail-in kits would have paid.
Conclusion: Taken into account the shipping costs, she received $ 269 more from us for her jewelry than she would have received if she had fallen for the "free" mail-in service of our competitor.
Fast cash for your gold. Choose how you are paid.
Once your items arrive, they are unpacked, photographed, weighed and tested in a secure facility. We will send you a quote via email and if you accept it, the payment will be released on the same day. You can choose how you want to get paid. We offer e-Transfer (Email Money Transfer), cheque or wire transfer. e-Transfer is the fastest payment option. You will immediately have the money available in your bank account.
For your convenience, below is a list of Prince Edward Island communities and towns such as Charlottetown, Summerside, Stratford, Cornwall, Montague, Belfast, Kensington we service. Please note that our service is not limited to these areas: We will buy your precious metals anywhere in Prince Edward Island and Canada.
PRINCE EDWARD ISLAND AREAS
WE SERVE
Gold buyer for all Prince Edward Island communities
Abegweit First Nation
Abrams Village
Afton
Alberton
Alexandra
Alma
Anglo Tignish
Ascension
Bedeque
Belfast
Bideford
Black Banks
Bloomfield
Bloomfield Corner
Bonshaw
Borden
Brackley
Brackley Beach
Breadalbane
Brockton
Brooklyn
Brudenell
Bunbury
Burlington
Burton
Campbellton
Cardigan
Carleton
Cascumpec
Cavendish
Central Bedeque
Central Kildare
Central Kings
Charlottetown
Churchill
Clyde River
Coleman
Cornwall
Crapaud
Darlington
Deblois
DeSable
Donagh
Duvar
East Point
Eastern Kings
Ellerslie
Elmira
Elmsdale
Emerald Junction
Fortune Bridge
Foxley River
Fredericton
Freeland
Georgetown
Glengarry
Grandview
Greenmount
Greenwich
Hampshire
Hampton
Harper
Hazelbrook
Hebron
Howlan
Hunter River
Huntley
Iona
Judes Point
Kelly Road
Kensington
Kildare
Kildare Capes
Kingston
Kinkora
Kinross
Knutsford
Lady Slipper
Lauretta
Lennox Island First Nation
Leoville
Linkletter
Malpeque Bay
Mill River East
Mill Road
Miltonvale Park
Miminegash
Miscouche
Montague
Morell
Mount Stewart
Murray Harbour
Murray River
Nail Pond
New Glasgow
New Haven-Riverdale
New London
North Rustico
North Shore
North Wiltshire
Northport
Norway
O'Brien Road
O'Leary
Orwell
Palmer Road
Palmer Road North
Panmure Island
Peterville
Piusville
Pleasant Grove
Pleasant View
Portage
Richmond
Rocky Point
Rosebank
Roseville
Roxbury
St. Anthony
St. Edward
St. Felix
St. Lawrence
St. Louis
St. Nicholas
St. Peters Bay
St. Roch
Scotchfort
Seacow Pond
Sherbrooke
Skinners Pond
Souris
Stanhope
Stratford
Summerfield
Summerside
Tignish
Tignish Shore
Tracadie
Tyne Valley
Uigg
Union Road
Unionvale
Urbainville
Valleyfield
Vernon Bridge
Vernon River
Victoria
Warren Grove
Wellington
West Rivery/li>
York Point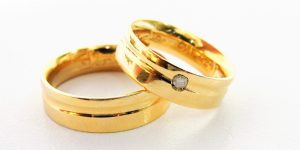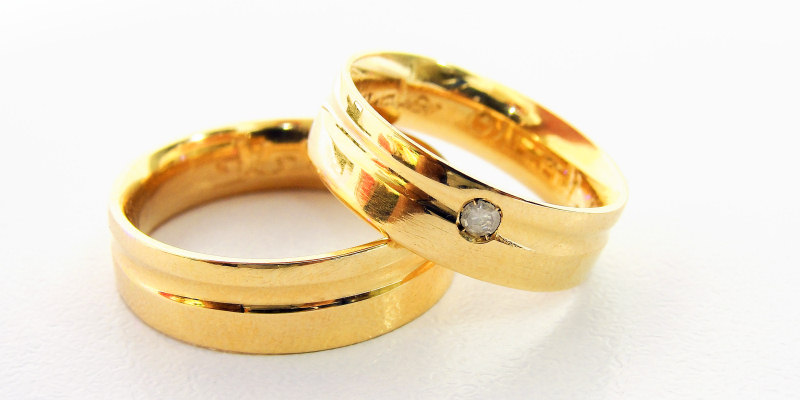 A wedding ring or wedding band consists of a metal ring. In certain countries it is worn on the base of the left ring finger. In other parts of the world, it is worn on the right ring finger (see post-wedding customs below).
Such a ring symbolizes marriage: a spouse wears it to indicate a marital commitment to fidelity. The European custom of wearing such a ring has spread widely beyond Europe.
Materials
Most religious marital ceremonies accept a band of any material to symbolize the making of marriage vows.
To make wedding rings, jewellers most commonly use a precious yellow alloy of gold, hardened with copper and silver or tin and bismuth. Platinum and white alloys of gold are also used, although the slightly yellow "white" gold alloys of the past have been largely replaced by a cheaper nickel-gold alloy, covered with a thin plating of rhodium which must be reapplied after some years of wear. Titanium has recently become a popular material for wedding bands, due to its durability, affordability, and gunmetal grey colour. Tungsten carbide, often with gold or platinum inlays, is recently being used as well. The least expensive material in common use is nickel silver for those who prefer its appearance or cost. Marrying couples are also beginning to use stainless steel, which has the same durability as platinum or titanium, and can accept a finer finish than the latter. Silver, copper, brass and other cheaper metals do not occur as frequently because they corrode over time and thus do not convey a sense of permanence. Wood, Stone and Organic materials can also be used but are more decorative and much less durable than metal.
Styles, patterns, fashions
A plain gold band is the most popular pattern. Medical personnel commonly wear it because it can be kept very clean. Women usually wear narrow bands, while men wear broader bands. Some couples choose to design their own wedding rings. In France and French-speaking countries, a common pattern consists of three interwoven rings. They stand for the Christian virtues of "faith, hope and love", where "love" equates to that particular type of perfect disinterested love indicated by the ancient Greek word agape. Provocatively, this pattern slides off quickly, because the rings flow over each other.
Women in Greek and Anatolian (comprising most of modern Turkey) cultures sometimes receive and wear puzzle rings - sets of interlocking metal bands that one must arrange just so in order to form a single ring. Traditionally, men wryly gave them as a test of their woman's monogamy.
In North America and some European countries, many married women wear two rings on the same finger: an engagement ring and a plain wedding band. Couples often purchase such rings as a pair of bands designed to fit together. In addition, some women who have been married a long time wear three rings on their finger (from hand to tip): a wedding band, an engagement ring, and an eternity ring. This three-ring combination is especially common in the UK.