Your Northern Ontario Gold Buyer
Looking to get Cash for Gold?
Sell Gold Jewelry, Gold Coins, Gold Bars or Scrap Gold to True North Gold Buyer
We are one of the country's fastest and highest paying buyers of Gold, Silver and other Precious Metals and offer our service to all Northern Ontario cities and towns like Sudburry, Thunder Bay, Sault Ste. Marie, North Bay, Timmins, Kenora and Canada wide. We pay top dollar for old gold, silver or platinum containing items and jewelry, such as rings, bracelets, necklaces, earrings, watches, coins, bars, silverware, crucibles, thermocouples or dental gold.
Why buy and sell gold and silver online with True North Gold Buyer?
We don't squander your money on local stores or free mail-in kits, thus allowing us to reduce costs and offer you the highest payouts in the business.
Have you ever wondered why you can buy the same item for a much lower price from an online store, such as Amazon, than at the retail store in your local mall? This comes down to one simple reason – Amazon's strategy has always been to focus on running an efficient online business, thereby being able to offer their customers the best prices, instead of wasting their customers' money on running a network of expensive local stores.
True North Gold Buyer is using the same principle to make sure you get the most cash for your gold. We are a registered Canadian online business and assay & refine all precious metals in one secure, central location. On top of that we keep the overhead costs low by not spending the value of your gold on local stores, local sales clerks or "free" return envelopes. This means all the money can go straight back to you as a higher payout than what any local competitors can offer.
No gold buyers with high payouts in your area?
Are there no gold buyers anywhere close to where you live, or just one that doesn't pay very well due to lack of competition? We can help you with that. If you have access to a post office, you have access to True North Gold Buyer.
Not only do we offer professional service all over Canada, we also pay rates that beat local gold buyers and pawn shops even in larger cities where there is a lot of competition.
Fair Payouts! No lowball offers, no lengthy haggling!
We are always completely open and honest about our payout rates.
We pay fair, market-driven prices for any gold, silver or platinum item we buy, with no hidden fees. When doing business with us you're guaranteed to get the most cash for your gold.
Simply use our payout estimator to calculate what we will pay for your items before sending them in. You just need to know the gold content of your items and have a scale to weigh them.
We are committed to providing the highest level of service to make sure you are 100% satisfied and to earning your repeat business and referrals. For our satisfied customers, we offer a referral program which will pay them 1% of any referral business we get through them.
No "free" mail-in kits?
Free mail-in kits don't exist. Customers always pay for these kits one way or another.
Our goal is to offer you the most cash for your gold and that is only possible because we don't squander your money on prepaid envelopes and kits. Competitors that give you so-called "free" mail-in kits force you to pay not only for your kit but also for all the ordered kits that are never mailed in. They either cover these costs by offering lower payouts or by cheating when weighing and testing your items. In our Blog we posted a comparison between our payout for a customer's lot vs. what a competitor with "free" mail-in kits would have paid.
Bottom line: With shipping fees taken into account she received $ 269 more for her jewelry than she would have received by falling for our competitor's "free" mail-in service.
How to ship your gold, silver or platinum to us
With the help of our payout estimator you can easily calculate your payout. It will also provide you with a prefilled shipping label that you can print and tape to your package. Choose a carrier and service (we recommend Canada Post - Xpresspost with tracking) and send your items to:
TNGB LIMITED
PO BOX 22027 BIG BAY POINT
BARRIE ON L4N 0Z5
Fast cash for your gold. Choose how you get paid.
As soon as your items arrive, they will be unpacked, photographed, weighed and tested in a secure vault. We will email you a quote and if you accept, payment is released on the same day. You can choose how you want to be paid. We offer e-Transfer (Email Money Transfer), cheque or wire transfer.
e-Transfer is the fastest payment option. You will have the funds available in your bank account immediately.
For your convenience, below you will find a list of Northern Ontario cities and towns such as Sudburry, Thunder Bay, Sault Ste. Marie, North Bay, Timmins, Kenora we service. Please keep in mind that our service is not limited to these areas. We will buy your precious metals all across Northern Ontario and Canada.
Gold buyer for all Northern Ontario communities
Greater Sudbury
Greater Sudburry Downtown
Greater Sudburry New Sudburry
Thunder Bay Northeast
Thunder Bay Downtown
Thunder Bay Southwest
Thunder Bay Central
Sault Ste. Marie East
Sault Ste. Marie Central
Sault Ste. Marie South
North Bay South
North Bay North
North Bay Central
Timmins
Kenora
Elliot Lake
Temiskaming Shores
Dryden
Atikokan
Blind River
Chapleau
Cobalt
Cochrane
Espanola
Englehart
Earlton
Fauquier-Strickland
Fort Frances
French River
Greenstone
Hearst
Ignace
Iroquois Falls
Kapuskasing
Kirkland Lake
Marathon
Markstay-Warren
Mattawa
Mattice-Val Cote
Moonbeam
Moosonee
Nipigon
Northeastern Manitoulin and the Islands
Opasatika
St. Charles
Sables-Spanish Rivers
Sioux Lookout
Smooth Rock Falls
Val Rita-Harty
Wawa
West Nipissing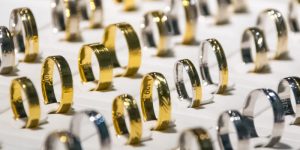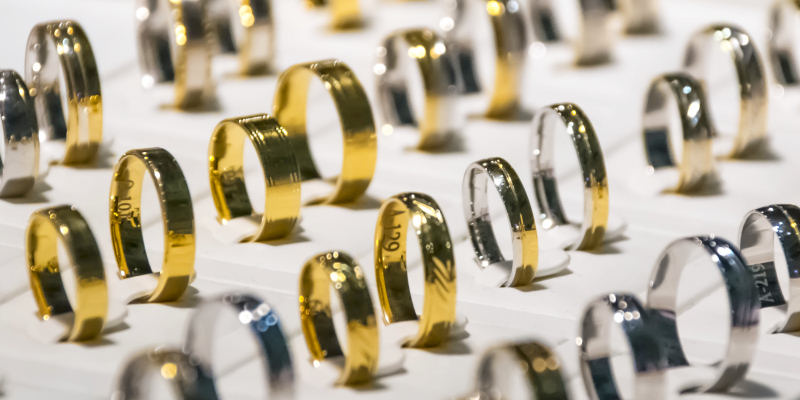 A finger ring is a circular band worn as a type of ornamental jewellery around a finger; it is the most common current meaning of the word ring. Other types of metal bands worn as ornaments are also called rings, such as arm rings and neck rings.
Rings are worn by both men and women and can be of any quality. Rings can be made of metal, plastic, wood, bone, glass, gemstone and other materials. They may be set with a "stone" of some sort, which is often a precious or semi-precious gemstone such as ruby, sapphire or emerald, but can also be of almost any material.
Shapes and styles
Various ring shapes and styles exist. The following are but a few.
Flat wedding bands are the simplest form of ring that can be made. A flat wedding band basically consists of a strip of metal that is bent around into a loop and joined where the ends meet.
Half-round rings, also called D-shape rings, are flat wedding bands that are filed half-round on the outside.
Sleeve rings are rings that consist of a thin inner ring or sleeve, with several other rings stacked onto it to form one solid ring. The rings can either be soldered onto the sleeve or the ends of the sleeve can be upset (like a tube rivet) to keep them all together. A little of both can also be done.
Solitaire rings are rings with a single large stone as a centrepiece, usually a diamond.
Eternity rings are rings with stones, usually diamonds, of the same cut and size, set in one row all around the ring. The stones are usually round or square, and the setting is usually either claws or a channel setting. When the stones do not continue around the entire ring, but stop halfway around the finger, it is called a half-eternity ring.
Trinity rings are three rings to be worn at one time.
Cluster rings are rings with a group of stones in a cluster setting, forming the focal point of the ring. The cluster setting usually consists of one large stone (usually round or oval) in the center surrounded with several smaller stones.
Usage
Aqiq ring

A carnelian or Agate ring worn by some Muslims, especially Shi'ah, in imitation of Muhammad and the twelve Imams.

Championship ring

A ring presented to members of winning teams in professional business leagues as well as college tournaments in North America.

Claddagh ring

An Irish friendship ring. It is traditionally used to indicate the state of romantic availability.

Class ring

Worn by students and alumni in commemoration of their graduation.

Dinner ring

An oversized ring, set with non-precious or semiprecious stones.

Eclarian ring

A ring worn by gay men to represent their beliefs. This ring has a separate centre which rotates.

Engagement ring

A traditional ring worn by a woman to indicate her engagement to be married.

Engineer's Ring, Iron Ring

A ring worn by engineers on the pinky finger of their working hand to remind them of their ethical obligations.

Eternity ring

A ring symbolizing eternity with a partner.

Finger armor ring

Typically it spans from the base of the finger to just below the nail or middle of the second joint and includes a bending joint.

Friendship ring

Friendship rings are used to symbolize a close relationship that has no romantic undertone.

Gimmal ring

Ring made of 2 or 3 linking hoops, popular for betrothals in 16th and 17th century Europe

Magic ring

A fictitious ornament that appears frequently in fantasy stories and fairy tales.

Mood ring

A novelty ring which changes color in response to body temperature, using a thermochromic liquid crystal.

Mother's ring

A ring worn by a mother displaying the birthstone of each of her children, and sometimes including those of the mother and father.

Mourning ring

A ring worn in memory of someone who has died.

Multi-Finger ring

Two or more conjoined rings, designed to be worn across two, three, or four fingers; popularized by hip-hop culture.

Pinky ring

A ring worn on the pinky finger.

Posie ring

A ring with a short inscription on its outer surface.

Pre-engagement ring

A small, inexpensive ring given to a partner, to promise not to court a rival.

Promise ring

A ring worn to remind oneself of a promise one has made.

Purity ring

A symbol of virginity in some religious cultures.

Puzzle ring

Interlocking rings forming a single band; difficult to reassemble if removed from the finger.

Poison ring or Pillbox ring

A Ring consisting of a pillbox fitted into the ring, either for keeping medication or poison.

Regards ring

A Victorian engagement ring with an implicit acrostic: Ruby, Emerald, Garnet, Amethyst, Ruby, Diamond, Sapphire.

Ring of O

A ring inspired by the Story of O, Pauline Reage's novel, in which the heroine, "The O" is presented with such a ring as a symbol of her submission.

Rosary ring

A rosary ring is a ring worn around the finger with 10 indentations and a cross on the surface, representing one decade of a rosary. The rings are used to keep track of place in the prayer by rotating the ring on a finger and feeling the marks.

Signet ring

An emblematic, often familial, ring, often bearing a coat of arms, fit for use to imprint a wax seal on documents etc.

Sovereign ring

A typically large, gold ring, set with a gold sovereign as its decorative feature.

Thumb ring

This largest of finger rings is worn on the thumb primarily for fashion, but is also worn as a symbol of will power or internal energy, sexuality, and other beliefs or attitudes.

Watch ring

A small analogue or digital watch to be worn around a finger.

Wedding ring

A ring presented in many marriage ceremonies to signify marital commitment. Originally worn only by the woman, it is now common for both spouses to wear such a ring.