Your York Gold Buyer
Looking to get Cash for Gold?
Sell Gold Jewelry, Gold Coins, Gold Bars or Scrap Gold to True North Gold Buyer
We are one of the country's fastest and highest paying buyers of Gold, Silver and other Precious Metals and offer our service to all York, GTA communities and neighbourhoods like Markham, Vaughan, Richmond Hill, Newmarket, Aurora, Whitchurch-Stouffville, King, Gwillimbury, Georgina and Canada wide. We pay top dollar for old gold, silver or platinum containing items and jewelry, such as rings, bracelets, necklaces, earrings, watches, coins, bars, silverware, crucibles, thermocouples or dental gold.
Why buy and sell gold and silver online with True North Gold Buyer?
We don't squander your money on local stores or free mail-in kits, thus allowing us to reduce costs and offer you the highest payouts in the business.
Have you ever wondered why you can buy the same item for a much lower price from an online store, such as Amazon, than at the retail store in your local mall? This comes down to one simple reason – Amazon's strategy has always been to focus on running an efficient online business, thereby being able to offer their customers the best prices, instead of wasting their customers' money on running a network of expensive local stores.
True North Gold Buyer is using the same principle to make sure you get the most cash for your gold. We are a registered Canadian online business and assay & refine all precious metals in one secure, central location. On top of that we keep the overhead costs low by not spending the value of your gold on local stores, local sales clerks or "free" return envelopes. This means all the money can go straight back to you as a higher payout than what any local competitors can offer.
No gold buyers with high payouts in your area?
Are there no gold buyers anywhere close to where you live, or just one that doesn't pay very well due to lack of competition? We can help you with that. If you have access to a post office, you have access to True North Gold Buyer.
Not only do we offer professional service all over Canada, we also pay rates that beat local gold buyers and pawn shops even in larger cities where there is a lot of competition.
Fair Payouts! No lowball offers, no lengthy haggling!
We are always completely open and honest about our payout rates.
We pay fair, market-driven prices for any gold, silver or platinum item we buy, with no hidden fees. When doing business with us you're guaranteed to get the most cash for your gold.
Simply use our payout estimator to calculate what we will pay for your items before sending them in. You just need to know the gold content of your items and have a scale to weigh them.
We are committed to providing the highest level of service to make sure you are 100% satisfied and to earning your repeat business and referrals. For our satisfied customers, we offer a referral program which will pay them 1% of any referral business we get through them.
No "free" mail-in kits?
Free mail-in kits don't exist. Customers always pay for these kits one way or another.
Our goal is to offer you the most cash for your gold and that is only possible because we don't squander your money on prepaid envelopes and kits. Competitors that give you so-called "free" mail-in kits force you to pay not only for your kit but also for all the ordered kits that are never mailed in. They either cover these costs by offering lower payouts or by cheating when weighing and testing your items. In our Blog we posted a comparison between our payout for a customer's lot vs. what a competitor with "free" mail-in kits would have paid.
Bottom line: With shipping fees taken into account she received $ 269 more for her jewelry than she would have received by falling for our competitor's "free" mail-in service.
How to ship your gold, silver or platinum to us
With the help of our payout estimator you can easily calculate your payout. It will also provide you with a prefilled shipping label that you can print and tape to your package. Choose a carrier and service (we recommend Canada Post - Xpresspost with tracking) and send your items to:
TNGB LIMITED
PO BOX 22027 BIG BAY POINT
BARRIE ON L4N 0Z5
Fast cash for your gold. Choose how you get paid.
As soon as your items arrive, they will be unpacked, photographed, weighed and tested in a secure vault. We will email you a quote and if you accept, payment is released on the same day. You can choose how you want to be paid. We offer e-Transfer (Email Money Transfer), cheque or wire transfer.
e-Transfer is the fastest payment option. You will have the funds available in your bank account immediately.
For your convenience, below you will find a list of communities, neighbourhoods and towns in the York region such as Markham, Vaughan, Richmond Hill, Newmarket, Aurora, Whitchurch-Stouffville, King, Gwillimbury, Georgina we service. Please keep in mind that our service is not limited to these areas. We will buy your precious metals all across York, GTA, Central Ontario and Canada.
Gold buyer for all York neighbourhoods
Aurora Grove
Bayview Northeast
Bayview Wellington
Aurora Heights
Aurora Village
Aurora Highlands
Aurora Estates
Hills of St Andrew
Holland Landing
Mt Albert
Rural East Gwillimbury
Sharon
Keswick South
Keswick North
Historic Lakeshore Communities
Sutton & Jackson's Point
Baldwin
Pefferlaw
Schomberg
Nobleton
Rural King
King City
Pottageville
Cornell
Rouge River Estates
Village Green-South Unionville
German Mills
Raymerville
Bayview Fairway-Bayview Country Club Estates
Sherwood-Amberglen
Old Markham Village
Greensborough
Markham Village
Cedarwood
Commerce Valley
Middlefield
Cathedraltown
Milliken Mills West
Legacy
Wismer
Berczy
Bullock
Rural Markham
Angus Glen
Box Grove
Vinegar Hill
Aileen-Willowbrook
Rouge Fairways
Milliken Mills East
Markville
Royal Orchard
Cachet
Unionville
Grandview
Thornhill
Thornlea
Bayview Glen
Buttonville
Victoria Manor-Jennings Gate
Victoria Square
Cedar Grove
Devil's Elbow
Bristol-London
Central Newmarket
Huron Heights-Leslie Valley
Stonehaven-Wyndham
Gorham-College Manor
Woodland Hill
Armitage
Summerhill Estates
Glenway Estates
North Richvale
Crosby
Langstaff
Observatory
Oak Ridges Lake Wilcox
Harding
Oak Ridges
Devonsleigh
Jefferson
Mill Pond
Westbrook
Rouge Woods
South Richvale
Bayview Hill
Doncrest
Rural Richmond Hill
Lakeview Estates
Vellore Village
Maple
Sonoma Heights
Glen Shields
East Woodbridge
Patterson
Concord
Brownridge
Elder Mills
Crestwood-Springfarm-Yorkhill
Vaughan Grove
Uplands
Rural Vaughan
Beverley Glen
West Woodbridge
Islington Woods
Kleinburg
Stouffville
Ballantrae
Rural Whitchurch-Stouffville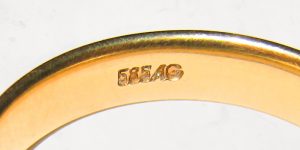 The karat (abbreviation ct or kt) is a measure of the purity of gold alloys. In the United States and Canada, the spelling karat is used, while the spelling carat is used to refer to the measure of mass for gemstones. As a precious metal and gold buyer, respectively we buy gold scrap, jewellery, dental gold with a purity of 8KT and higher. For plated gold and gold alloys with a low gold content refer to our "Large Volume & Commercial Customer" section.
Measure
To convert the purity karat into percentage use the following simple formula: 100/24*X where X is the karat rating of the material.
Therefore 24-karat gold is fine (99.9% gold is accepted as 24KT although using the formula it should of course be 100%), 18-karat gold is 75% gold, 12-karat gold is 50% gold, and so forth.
Historically, in England the karat was divisible into four grains, and the grain was divisible into four quarts. For example, a gold alloy of 381/384th fineness (that is, 99.2% purity) could have been described as being 23-karat, 3-grain, 1-quart gold.
The karat system is increasingly being complemented or superseded by the millesimal fineness system in which the purity of precious metals is denoted by parts per thousand of pure metal in the alloy.
The most common karats used for gold in bullion, jewellery making and by goldsmiths are:
24 karat (millesimal fineness 999)
22 karat (millesimal fineness 916)
20 karat (millesimal fineness 833)
18 karat (millesimal fineness 750)
15 karat (millesimal fineness 625)
14 karat (millesimal fineness 585)
10 karat (millesimal fineness 417)
9 karat (millesimal fineness 375)
8 karat (millesimal fineness 333)
Derivation
The word karat is derived from the Greek kerátiōn (κεράτιων), "fruit of the carob", via Arabic qīrāṭ (قيراط) and Italian carato. Carob seeds were used as weights on precision scales because of their reputation for having a uniform weight.(However, a 2006 study by Lindsay Turnbull and others found this to not be the case - carob seeds have as much variation in their weights as other seeds.) This was not the only reason. It is said that in order to keep regional buyers and sellers of gold honest, a potential customer could retrieve their own carob seeds on their way to the market, to check the tolerances of the seeds used by the merchant. If this precaution was not taken, the potential customer would be at the mercy of "2 sets of carob seeds". One set of "heavier" carob seeds would be used when buying from a customer (making the seller's gold appear to be less). Another, lighter set of carob seeds would be used when the merchant wanted to sell to a customer.
In the distant past, different countries each had their own carat, roughly equivalent to a carob seed. In the mid-16th century, the Karat was adopted as a measure of gold purity, roughly equivalent to the Roman siliqua 1/24th of a golden solidus of Constantine I). As a measure of diamond weight, from 1575, the Greek measure was the equivalent of the Roman siliqua, which was 1/24th of a golden solidus of Constantine; but was likely never used to measure the weight for gold.