Your Southwestern Ontario Gold Buyer
Wondering where to get the most cash for gold?
Selling Gold Jewelry, Gold Coins, Gold Bars or Scrap Gold to True North Gold Buyer
We are one of the fastest and highest paying Canadian buyers of gold, silver and other precious metals and offer our services to all Southwestern Ontario cities, towns and communities like London, Kitchener, Windsor, Guelph, Cambridge, Waterloo, Chatham-Kent, Brantford, Sarnia, Stratford, Woodstock, St. Thomas and in all of Canada. We pay top prices for old gold, silver or platinum containing items and jewelry such as rings, bracelets, necklaces, earrings, watches, coins, rods, silverware, crucibles, thermocouples or dental gold.
Why buy and sell gold and silver online with True North Gold Buyer?
By not wasting your money on local stores or free mail-in kits, we can cut costs and therefore give you the highest payouts in the market.
Have you ever wondered why you can buy the same item at a much lower price from an online store, like Amazon, than at the local store in your mall? There's a simple reason for this: Amazon's strategy has always focused on running an efficient online business to offer its customers the best prices, instead of wasting their customers' money on a network of expensive local retail stores.
We use the same principle to make sure you get the most cash out of your gold. True North Gold Buyer is a registered Canadian online business. We analyze and refine all precious metals in a secure, central location. In addition, we keep overheads low by not spending the value of your gold on retail stores, vendors, or "free" return envelopes. This means that all the money goes directly back to you as a higher payout compared to what local competitors can offer you.
Searching for a high-paying gold buyer near you?
Are there no gold buyers near you or just one who does not pay well due to lack of competition? Our professional online service can help you with this problem. We pay prices that beat local gold buyers and pawn shops even in larger cities where there is a lot of competition.
All you need is access to a post office and you have access to True North Gold Buyer.
Highest payouts from the start! No lowball offers, no haggling!
We are always open and honest about our payout rates.
We pay fair, market-based prices for all gold, silver or platinum items we buy, with no hidden fees. When you do business with us, you are guaranteed to get the most cash for your gold from the start.
To calculate what we pay for your items even before sending them to us, simply use our payout estimator. You just have to know the gold content of your items and have a scale to weigh them.
We always strive to provide the highest levels of service to make sure you are 100% satisfied and we consistently strive to earn repeat business and referrals.
For our satisfied customers, we offer a referral program that pays you 1% of every business transaction we receive through you.
How do you ship your gold, silver or platinum to us?
With the help of our payout estimator you can easily calculate your payout. You will also receive a pre-filled shipping label that you can print and put on your package. Choose a carrier and service (we recommend Canada Post - Xpresspost with tracking) and send your items to:
TNGB LIMITED
PO BOX 22027 BIG BAY POINT
BARRIE ON L4N 0Z5
No "free" mail-in kits?
Free mail-in kits do not exist. Customers always pay for these kits in one way or another.
Our goal is to give you the most cash for your gold, and that's only possible because we're not squandering your money on prepaid envelopes and kits. Competitors who lure you with so-called "free" mail-in kits force you not only to pay for your kit, but also for all ordered kits that are never shipped. They cover these costs either through lower payouts or by incorrect weighing and testing. In our blog, we compare our payout for a customer's items with what a competitor with "free" mail-in kits would have paid.
Conclusion: Taken into account the shipping costs, she received $ 269 more from us for her jewelry than she would have received if she had fallen for the "free" mail-in service of our competitor.
Fast cash for your gold. Choose how you are paid.
Once your items arrive, they are unpacked, photographed, weighed and tested in a secure facility. We will send you a quote via email and if you accept it, the payment will be released on the same day. You can choose how you want to get paid. We offer e-Transfer (Email Money Transfer), cheque or wire transfer. e-Transfer is the fastest payment option. You will immediately have the money available in your bank account.
For your convenience, below is a list of Southwestern Ontario communities and towns such as London, Kitchener, Windsor, Guelph, Cambridge, Waterloo, Chatham-Kent, Brantford, Sarnia, Stratford, Woodstock, St. Thomas we service. Please note that our service is not limited to these areas: We will buy your precious metals anywhere in London, Southwestern Ontario and Canada.
Gold buyer for all Southwestern Ontario communities
London North
London Central
London Westminster
London Sunningdale
London Woodhull
London Jackson
London Old Victoria
London Central
Windsor Riverside
Windsor Forest Glade
Windsor Fontainbleu
Windsor Walkerville
Kitchener Norhtwest
Kitchener West
Kitchener Southeast
Kitchener South
Chatham-Kent
Chatham Southeast
Chatham Northwest
Sarnia
Amherstburg
Brantford
Cambridge
Collingwood
Elmira
Grand Valley
Guelph
Leamington
Lucan
Mono
Orangeville
Owen Sound
Shelbourne
St. Thomas
Stratford
Tillsonburg
Tobermory
Waterloo
Waubaushene
Woodstock
Wiarton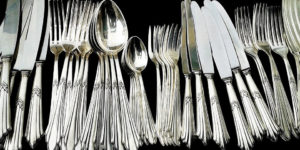 Are you sitting on a treasure of old, mismatched or damaged silverware pieces?
Even though nowadays high-grade steel cutlery has replaced the silverware of old for good reasons many might still have a treasure hidden in their basement or attic without even knowing. The value of silverware has increased greatly due to its precious metals content. We offer you top prices for your old silver. Give us a call at (705) 302 1055 or check out our payout estimator.
Is sterling silver the same as pure silver?
Sterling silver is an alloy of silver containing 92.5% by weight of silver and 7.5% by weight of other metals, usually copper. The sterling silver standard has a minimum fineness of 925. Since fine silver or pure silver is relatively soft, it is usually alloyed with copper to increase its hardness and strength. Sterling silver is prone to tarnishing and staining, but fortunately that doesn't reduce the payout for the contained silver.
How can I tell how much my old, tarnished silver is worth?
Unfortunately there is no simple answer to this question. There are hundreds of different manufacturers for silverware and everyone has or had its own technique. So it isn't as easy as putting all your silverware on a scale and multiplying the weight by the spot price for silver. Silverware is often filled or plated and knife blades may be made from steel. A set of assorted, mismatched silverware can easily get you a payout of $ 1000. Give us a call and our experts will help you estimating the silver content of your silver flatware or tableware.