Your Eastern Ontario Gold Buyer
Wondering where to get the most cash for gold?
Selling Gold Jewelry, Gold Coins, Gold Bars or Scrap Gold to True North Gold Buyer
We are one of the fastest and highest paying Canadian buyers of gold, silver and other precious metals and offer our services to all Eastern Ontario cities, towns and communities like Ottawa, Kingston, Belleville, Cornwall, Quinte West, Brockville and in all of Canada. We pay top prices for old gold, silver or platinum containing items and jewelry such as rings, bracelets, necklaces, earrings, watches, coins, rods, silverware, crucibles, thermocouples or dental gold.
Why buy and sell gold and silver online with True North Gold Buyer?
By not wasting your money on local stores or free mail-in kits, we can cut costs and therefore give you the highest payouts in the market.
Have you ever wondered why you can buy the same item at a much lower price from an online store, like Amazon, than at the local store in your mall? There's a simple reason for this: Amazon's strategy has always focused on running an efficient online business to offer its customers the best prices, instead of wasting their customers' money on a network of expensive local retail stores.
We use the same principle to make sure you get the most cash out of your gold. True North Gold Buyer is a registered Canadian online business. We analyze and refine all precious metals in a secure, central location. In addition, we keep overheads low by not spending the value of your gold on retail stores, vendors, or "free" return envelopes. This means that all the money goes directly back to you as a higher payout compared to what local competitors can offer you.
Searching for a high-paying gold buyer near you?
Are there no gold buyers near you or just one who does not pay well due to lack of competition? Our professional online service can help you with this problem. We pay prices that beat local gold buyers and pawn shops even in larger cities where there is a lot of competition.
All you need is access to a post office and you have access to True North Gold Buyer.
Highest payouts from the start! No lowball offers, no haggling!
We are always open and honest about our payout rates.
We pay fair, market-based prices for all gold, silver or platinum items we buy, with no hidden fees. When you do business with us, you are guaranteed to get the most cash for your gold from the start.
To calculate what we pay for your items even before sending them to us, simply use our payout estimator. You just have to know the gold content of your items and have a scale to weigh them.
We always strive to provide the highest levels of service to make sure you are 100% satisfied and we consistently strive to earn repeat business and referrals.
For our satisfied customers, we offer a referral program that pays you 1% of every business transaction we receive through you.
How do you ship your gold, silver or platinum to us?
With the help of our payout estimator you can easily calculate your payout. You will also receive a pre-filled shipping label that you can print and put on your package. Choose a carrier and service (we recommend Canada Post - Xpresspost with tracking) and send your items to:
TNGB LIMITED
PO BOX 22027 BIG BAY POINT
BARRIE ON L4N 0Z5
No "free" mail-in kits?
Free mail-in kits do not exist. Customers always pay for these kits in one way or another.
Our goal is to give you the most cash for your gold, and that's only possible because we're not squandering your money on prepaid envelopes and kits. Competitors who lure you with so-called "free" mail-in kits force you not only to pay for your kit, but also for all ordered kits that are never shipped. They cover these costs either through lower payouts or by incorrect weighing and testing. In our blog, we compare our payout for a customer's items with what a competitor with "free" mail-in kits would have paid.
Conclusion: Taken into account the shipping costs, she received $ 269 more from us for her jewelry than she would have received if she had fallen for the "free" mail-in service of our competitor.
Fast cash for your gold. Choose how you are paid.
Once your items arrive, they are unpacked, photographed, weighed and tested in a secure facility. We will send you a quote via email and if you accept it, the payment will be released on the same day. You can choose how you want to get paid. We offer e-Transfer (Email Money Transfer), cheque or wire transfer. e-Transfer is the fastest payment option. You will immediately have the money available in your bank account.
For your convenience, below is a list of Eastern Ontario communities and towns such as Ottawa, Kingston, Belleville, Cornwall, Quinte West, Brockville we service. Please note that our service is not limited to these areas: We will buy your precious metals anywhere in Ottawa, Ontario and Canada.
EASTERN ONTARIO AREAS
WE SERVE
Gold buyer for all Eastern Ontario communities
Ottawa Cumberland
Ottawa Britannia
Ottawa Queenswood
Ottawa Orleans
Ottawa Riverview
Ottawa Lowertown
National Capital Region
Kingston Downtown
Kingston Cataraqui
Kingston Westbrook
Cornwall East
Cornwall North
Cornwall West
Brockville
Pembroke
Rockland
Hawkesbury
Smiths Falls
Carleton Place
Renfrew
Petawawa
Arnprior
Embrun
Perth
Almonte
Prescott
Gananoque
Napanee
Belleville
Quinte West
Tweed
Stirling – Rawdon
Centre Hastings
Tyendinaga
Hastings Highlands
Marmora and Lake
Bancroft
Madoc
Deseronto
Faraday
Wollaston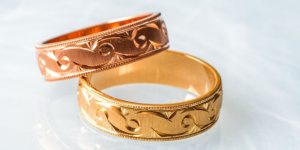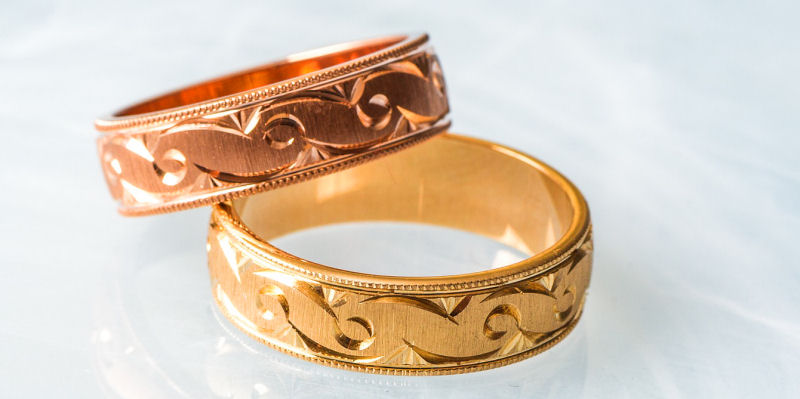 While pure gold is yellow in color, gold can also appear to have other colors. These colors are generally obtained by alloying gold with other elements in various proportions.
For example, alloys which are mixed 14 parts gold to 10 parts alloy create 14-karat gold, 18 parts gold to 6 parts alloy creates 18 karat, and so on. This is often expressed as the result of the ratio, ie: 14/24 equals 0.585 (rounded off), and 18/24 is 0.750. There are hundreds of possible alloys and mixtures, but in general the addition of silver will color gold green, and the addition of copper will color it red. A mix of around 50/50 copper and silver gives the range of yellow gold alloys the public is accustomed to seeing in the marketplace.
Contents:
White gold
White gold is an alloy of gold and at least one white metal, usually nickel or palladium. Like yellow gold, the purity of white gold is given in karats.
White gold's properties vary depending on the metals and proportions used. As a result, white gold alloys can be used for different purposes; while a nickel alloy is hard and strong, and therefore good for rings and pins, gold-palladium alloys are soft, pliable and good for white gold gemstone settings, sometimes with other metals like copper, silver, and platinum for weight and durability, although this often requires specialized goldsmiths. The term white gold is used very loosely in the industry to describe karat gold alloys with a whitish hue. Many believe that the color of the rhodium plating, which is what they see on many commercial pieces, is actually the color of white gold. The term white covers a large spectrum of colors that borders or overlaps pale yellow, tinted brown, and even very pale rose. The jewellery industry often hide these off-white colours by rhodium plating.
About one person in eight has a mild allergic reaction to the nickel in some white gold alloys when worn over long periods of time. A typical reaction is a minor skin rash. White gold alloys made without nickel are less likely to be allergenic.
Rose, red, and pink gold
Rose gold is a gold and copper alloy widely used for specialized jewelry due to its reddish color. It is also known as pink gold and red gold. As it was popular in Russia at the beginning of the nineteenth century, it is also known as Russian gold, although this term has become somewhat rare.
Although the names are often used interchangeably, the difference between red, rose, and pink gold is the copper content-the higher the copper content, the stronger the red coloration, as pure gold is yellow and pure copper is reddish. A common alloy for rose gold is 75% gold and 25% copper by mass (18 karat). Since rose gold is an alloy, there is therefore no such thing as "pure rose gold".
The highest karat version of rose gold is also known as crown gold, which is 22 karat. 18 karat red gold may be made of 25% copper and 75% gold. For 18 karat rose gold, typically about 4% silver is added to the 75% gold and 21% copper to give a rose color. 14 karat red gold is often found in the Middle East and contains 41.67% copper.
Green gold
Green gold alloys are made by leaving the copper out of the alloy mixture, and just using gold and silver. It actually appears as a greenish yellow, rather than as green. Eighteen karat green gold would therefore contain a mix of gold 75% and silver 25%. Fired enamels adhere better to these alloys.
Grey gold
Grey gold alloys are made by adding silver, manganese and copper in specific ratios to the gold.
Black gold
Black gold is a type of gold used in jewellery. Black colored gold can be produced by various methods:
Electroplating, using black rhodium or ruthenium. Solutions that contain ruthenium give a slightly harder black coating than those that contain rhodium.
Patination by applying sulfur and oxygen containing compounds.
Plasma assisted chemical vapor deposition process involving amorphous carbon, and controlled oxidation of karat gold containing chromium or cobalt.
More recently a laser technique has been developed that renders the surface of metals deep black. A femtosecond laser pulse deforms the surface of the metal forming nanostructures. The immensely increased surface area can absorb virtually all the light that falls on it and thus rendering it deep black.
Purple and blue golds
Purple gold (also called amethyst or violet gold) is an alloy of gold and aluminium. Gold content is around 79% and can therefore be referred to as 18 karat gold. Purple gold is more brittle than other gold alloys, and a sharp blow may cause it to shatter. It is therefore usually machined and faceted to be used as a 'gem' in conventional jewelry rather than by itself. Blue gold is similarly an alloy, a mixture of gold and indium or gallium.