Your Simcoe County Gold Buyer
Looking to get Cash for Gold?
Sell Gold Jewelry, Gold Coins, Gold Bars or Scrap Gold to True North Gold Buyer
We are one of the country's fastest and highest paying buyers of Gold, Silver and other Precious Metals and offer our service Simcoe County towns and communities like Barrie, Innisfil, Bradford, Orillia, Collingwood, Essa, Oro-Medonte, Wasaga Beach, Springwater, Midland, Clearview, Severn, Tiny, Adjala-Tosorontio, Tay, Ramara, Penetanguishene and Canada wide. We pay top dollar for old gold, silver or platinum containing items and jewelry, such as rings, bracelets, necklaces, earrings, watches, coins, bars, silverware, crucibles, thermocouples or dental gold.
Why buy and sell gold and silver online with True North Gold Buyer?
We don't squander your money on local stores or free mail-in kits, thus allowing us to reduce costs and offer you the highest payouts in the business.
Have you ever wondered why you can buy the same item for a much lower price from an online store, such as Amazon, than at the retail store in your local mall? This comes down to one simple reason – Amazon's strategy has always been to focus on running an efficient online business, thereby being able to offer their customers the best prices, instead of wasting their customers' money on running a network of expensive local stores.
True North Gold Buyer is using the same principle to make sure you get the most cash for your gold. We are a registered Canadian online business and assay & refine all precious metals in one secure, central location. On top of that we keep the overhead costs low by not spending the value of your gold on local stores, local sales clerks or "free" return envelopes. This means all the money can go straight back to you as a higher payout than what any local competitors can offer.
No gold buyers with high payouts in your area?
Are there no gold buyers anywhere close to where you live, or just one that doesn't pay very well due to lack of competition? We can help you with that. If you have access to a post office, you have access to True North Gold Buyer.
Not only do we offer professional service all over Canada, we also pay rates that beat local gold buyers and pawn shops even in larger cities where there is a lot of competition.
Fair Payouts! No lowball offers, no lengthy haggling!
We are always completely open and honest about our payout rates.
We pay fair, market-driven prices for any gold, silver or platinum item we buy, with no hidden fees. When doing business with us you're guaranteed to get the most cash for your gold.
Simply use our payout estimator to calculate what we will pay for your items before sending them in. You just need to know the gold content of your items and have a scale to weigh them.
We are committed to providing the highest level of service to make sure you are 100% satisfied and to earning your repeat business and referrals. For our satisfied customers, we offer a referral program which will pay them 1% of any referral business we get through them.
No "free" mail-in kits?
Free mail-in kits don't exist. Customers always pay for these kits one way or another.
Our goal is to offer you the most cash for your gold and that is only possible because we don't squander your money on prepaid envelopes and kits. Competitors that give you so-called "free" mail-in kits force you to pay not only for your kit but also for all the ordered kits that are never mailed in. They either cover these costs by offering lower payouts or by cheating when weighing and testing your items. In our Blog we posted a comparison between our payout for a customer's lot vs. what a competitor with "free" mail-in kits would have paid.
Bottom line: With shipping fees taken into account she received $ 269 more for her jewelry than she would have received by falling for our competitor's "free" mail-in service.
How to ship your gold, silver or platinum to us
With the help of our payout estimator you can easily calculate your payout. It will also provide you with a prefilled shipping label that you can print and tape to your package. Choose a carrier and service (we recommend Canada Post - Xpresspost with tracking) and send your items to:
TNGB LIMITED
PO BOX 22027 BIG BAY POINT
BARRIE ON L4N 0Z5
Fast cash for your gold. Choose how you get paid.
As soon as your items arrive, they will be unpacked, photographed, weighed and tested in a secure vault. We will email you a quote and if you accept, payment is released on the same day. You can choose how you want to be paid. We offer e-Transfer (Email Money Transfer), cheque or wire transfer.
e-Transfer is the fastest payment option. You will have the funds available in your bank account immediately.
For your convenience, below you will find a list of communities and towns in the Simcoe County area such as Barrie, Innisfil, Bradford, Orillia, Collingwood, Essa, Oro-Medonte, Wasaga Beach, Springwater, Midland, Clearview, Severn, Tiny, Adjala-Tosorontio, Tay, Ramara, Penetanguishene we service. Please keep in mind that our service is not limited to these areas. We will buy your precious metals all across Barrie, Simcoe County, Central Ontario and Canada.
Gold buyer for all Simcoe County communities
Achill
Adjala-Tosorontio
Airlie
Alcona
Alderslea
Allenwood Beach
Allenwood
Allimil
Alliston
Amigo Beach
Angus
Anten Mills
Apto
Ardmore Beach
Ardtrea
Atherley
Auld Kirk Scotch
Avening
Balm Beach
Barrie
Barrillia Park
Bass Lake Park
Batteaux
Baxter
Bayshore Village
Bayview Beach
Baywood Park
Bear Point
Beeton
Bell Ewart
Belle Air Beach
Belle-Eau-Claire Beach
Bethesda
Big Bay Point
Big Cedar Estates
Big Cedar Point
Bluewater Beach
Bond Head
Bonnie Beach
Bradford
Brechin Beach
Brechin Point
Brechin
Brentwood
Buckskin
Buena Vista Park
Burnside
Carley
Carlyon
Carthew Bay
Cashtown Corners
Cawaja Beach
Cedar Mount
Cedar Point
Cedargrove
Cedarmont Beach
Cedarville
Chippewas
Churchill
Clearview
Clearwater Beach
Coldwater
Colgan
Colwell
Concord Point
Connor
Cooper's Falls
Coulson
Coutenac Beach
Cove Beach
Craighurst
Creemore
Creighton
Crescent Beach
Crossland
Crown Hill
Cumberland Beach
Cumberland
Dalston
De Grassi Point
Deanlea Beach
Deerhurst
Dorion's Corner
Dunedin
Dunkerron
Duntroon
Eady
East Oro
East Tay Point
Ebenezer
Edenvale
Edgar
Edmore Beach
Egbert
Eight Mile Point
Elliots Corners
Elmgrove
Elmvale
Everett
Fair Valley
Fawkham
Fennell
Fergus Hill Estate
Fergusonvale
Fesserton
Floral Park
Forest Home
Fountain Beach
Foxmead
Gamebridge Beach
Geneva Park
Georgian Heights
Georgian Highlands
Georgian Sands Beach
Georgina Beach
Gibson
Gilford
Glen Huron
Glencairn
Glenhaven Beach
Glenrest Beach
Glenwood Beach
Grays Bay
Green Briar
Grenfel
Guthrie
Hamlet
Hampshire Mills
Happyland
Hawkestone Beach
Hawkestone
Hawkins Corner
Hendrie
Hillsdale
Hobart
Hoe Doe Valley
Hopkins Bay
Horseshoe Valley
Hydro Glen
Innisfil
Innisfil Heights
Ishpiming Beach
Ivy
Jack Lake
Jarratt
Joyland Beach
Keenansville
Kettle's Beach
Killarney Beach
Kingwood Acres
Lafontaine Beach
Lafontaine
Lagoon City
Lakeview Beach
Lakeview
Langman
Lefroy
Lisle
Little Falls
Longford Mills
Loretto
Lovering
Maple Grove
Maple Valley
Mara Beach
Marchmont
Mariposa Beach
Martinville
Mary Grove
McDonald Beach
Medonte
Melduf
Menoke Beach
Mertzs Corners
Midhurst Station
Midhurst
Midland
Minesing
Mitchell Square
Mnjikaning
Moons Beach
Moonstone
Mooselanka Beach
Mordolphin
Mount St. Louis
Mount Stephen
Mountain View Beach
Murphy Beach
Nantyr Park
Nantyr
New Flos
New Gamebridge Beach
New Lowell
Newton Robinson
Newton Robinson
Nicolston
Nottawa
Nottawaga Beach
O'Connell
Oaklawn Beach
Ogden's Beach
Old Fort
Orchard Point
Orchard Point
Orillia
Oro Beach
Oro Lea Beach
Oro Park
Oro Station
Oro-Medonte
Orr Lake
Ossossane Beach
Palm Beach
Paradise Point
Parkside Beach
Penetanguishene
Penville
Perkinsfield
Phelpston
Pinkerton
Point of Mara Beach
Port McNicoll
Port Severn
Port Stanton
Prophet Beach
Rama
Ramara
Randall
Rathburn
Rich Hill
Riverside Beach
Riverside
Roberta Park
Rosemont
Rowntree Beach
Rugby
Sandcastle Beach
Sandy Bay
Sandy Beach
Sandy Cove Acres
Sandy Cove
Sandy Pine Beach
Saurin
Sawlog Bay
Scarlet Park
Schomberg Heights
Severn Park
Shanty Bay
Sheldon
Silver Birch Beach
Simcoeside
Singhampton
Sloane Point
Smithdale
Snow Valley
Southview Cove
Springwater
Stayner
Strongville
Stroud
Sturgeon Bay
Sugar Bush
Sunnidale Corners
Sunnidale
Sunset Bay Estates
Sunset Beach
Swift Rapids
Talbot
Tanglewood Beach
Thompsonville
Thornton
Thunder Beach
Tiny Beach
Tioga
Toanche
Tottenham
Triple Bay Park
Udney
Uhthoff
Uptergrove
Utopia
Val Harbour
Vasey
Victoria Harbour
Vigo
Waddington Beach
Wahnekewaning Beach
Warminster
Wasaga Beach
Washago
Waubaushene
Waverley
Websterville
Wendake Beach
West Essa
Wilson Point
Woodland Beach
Wyebridge
Wyevale
Wymbolwood Beach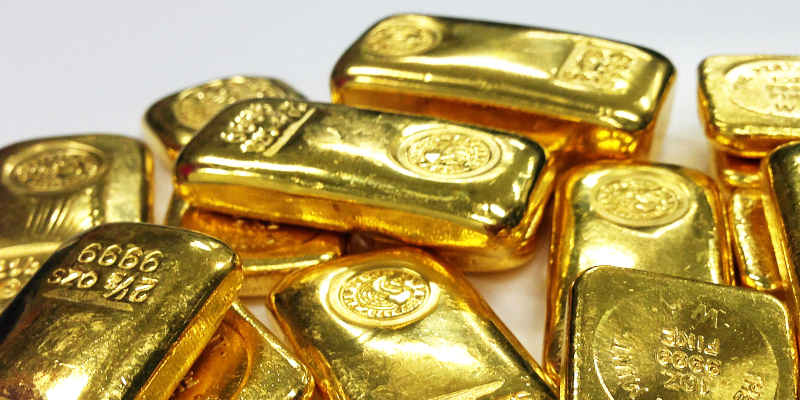 Bars
A gold bar is a quantity of refined metallic gold of any shape that is made by a bar producer meeting standard conditions of manufacture, labeling, and record keeping. Larger gold bars that are produced by pouring the molten metal into molds are called ingots. Smaller bars may be manufactured by minting or stamping from appropriately rolled gold sheets.
The standard gold bar held by central banks and traded among bullion dealer is the 400-ounce (12.4 kg) Good Delivery gold bar.
Types
Gold bars are classified into two different types, casted and minted, based on their method of manufacturing. Cast bars are made by pouring molten gold into an ingot mold to shape the gold product. Minted bars are made from gold blanks that have been hand cut to the required dimensions from a flat piece of gold. Markings are almost always applied by presses. ChipGold is a relatively new form of gold bar consisting of a small ingot (1-20 grams) in a sealed and certified package the size of a credit card.
Standard bar weights
Gold is measured in troy ounces, often simply referred to as ounce when the reference to gold is evident. One troy ounce is equivalent to 31.1034768 grams.
The much more commonly used avoirdupois ounce is used for measuring weights in most situation in daily life in countries using imperial measures. An avoirdupois ounce is lighter than a troy ounce; One avoirdupois ounce = 28.349523125 grams.
The standard gold bar held and traded internationally by central banks and bullion dealers is the Good Delivery bar with a 400 oz. nominal weight. However, its precise gold content is permitted to vary between 350 oz and 430 oz. The minimum purity required is 99.5% gold. These bars must be stored in recognized and secure gold bullion vaults to maintain their quality status of Good Delivery. The recorded provenance of this bar assures integrity and maximum resale value.
One tonne = 1000 kilograms = 32,150.746 troy ounces.
One kilogram = 1000 grams = 32.15074656 troy ounces.
One tola = 11.6638038 grams.
One tael = 37.429 grams.
TT (Ten Tola) = 117 grams (3.75 oz).
Tola is a traditional Indian measure for the weight of gold and prevalent to this day. Many international gold manufacturers supply tola bars of 999.96 purity.
Ingots
An ingot is a material, usually metal, that is cast into a shape suitable for further processing. Non-metallic and semiconductor materials prepared in bulk form may also be referred to as ingots, particularly when cast by mold based methods.
Uses
Ingots require a second procedure of shaping, such as cold/hot working, cutting or milling to produce a useful final product. Additionally ingots (of less common materials) can be used as currency, or as a currency reserve as with gold bars.
Types of ingots
Metal, either pure or alloy, heated past its melting point and cast into a bar or block using a mold chill method. Polycrystalline and single crystal ingots are made from semiconductor materials by pulling from a molten melt. Uses include the formation of photovoltaic cells from silicon ingots by cutting the ingot into flats, known as wafers.
Single crystal ingots
Single crystal ingots (called boules) of materials are grown (crystal growth) using methods such as the Czochralski process or Bridgeman technique.
The boules may be either semiconductors—for the electronic industry, or non-conducting inorganic compounds for industrial and jewellery use, e.g., synthetic ruby, sapphire etc.
Single crystal ingots of metal are produced in similar fashion to that used to produce high purity semiconductor ingots, i.e. by vacuum induction refining. Single crystal ingots of engineering metals are of interest due to their very high strength due to lack of grain boudaries. The method of production is via single crystal dendrite and not via simple casting. Possible uses include turbine blades.
Copper alloy ingots
In the United States, the brass and bronze ingot making industry started in the early 1800s. The US brass industry grew to be the number one producer by the 1850s. During colonial times the brass and bronze industrial was almost non-existent because the British demanded all copper ore be sent to Britain for processing. Copper based alloy ingots weighed approximately 20 pounds (9.1 kg).