Your New Brunswick Gold Buyer
Looking for the best place to sell your gold?
Why sell gold jewelry, gold bullion or scrap gold to True North Gold Buyer?
We are one of the fastest and highest paying gold buyers in the country. We buy gold, silver, platinum and other precious metals from all over Canada. We offer professional service to all New Brunswick cities and towns like Moncton, Saint John, Fredericton, Dieppe, Miramichi, Edmundston, Bathurst, Campbellton and Canada-wide. We pay top dollar for old gold, silver or platinum jewelry, such as rings, bracelets, necklaces, earrings, watches and items like coins, bars, silverware, crucibles, thermocouples or dental gold.
No lowball offers or haggling! Just fair Payouts!
We are always open and honest about our service and how we calculate your payouts.
We pay fair and market-based prices for any gold, silver or platinum item we buy. Do business with us and we guarantee you the most cash for your gold, with no hidden fees. Before sending your items to us, simply use our payout estimator and calculate what we pay for your items. You just need to know the gold content of your items and have a scale to weigh them.
We always strive to provide the highest levels of service to ensure that you are 100% satisfied. We will do our very best to earn your repeat business and referrals.
We even offer a referral program that pays our satisfied customers 1% of each business transaction we receive through their referrals.
Why should you buy and sell gold and silver online?
True North Gold Buyer does not waste your money on local stores or free mailing kits, which reduces costs so that we can give you the best payouts in the business.
People that prefer to buy from online stores, like Amazon, do that because it is comfortable and easy but especially because they get the same product at a much lower price compared to a retail store in their local mall. How is that possible? In the case of Amazon, their strategy has always been to focus on an efficient and cost-effective online business. Instead of wasting customers' money on running a network of expensive local stores, they are able to offer their customers the best prices.
True North Gold Buyer uses the same strategy to make sure you get the most cash for your gold. We are an online business registered in Canada, analyzing and refining all precious metals in one secure and central location. In addition, we keep overhead costs low by not spending the value of your gold on local stores with countless employees or "free" return envelopes. This means that all the money goes straight back to you as a higher payout than what the local competitors can offer.
No high-paying gold buyer near you?
Is there no gold buyer near you or just one that does not pay well due to lack of competition? We can help you with this problem. All you need is access to a post office to have access to True North Gold Buyer's high payouts. In addition to the professional services offered across Canada, we pay prices that beat local gold buyers and pawnbrokers, even in large cities where competition is strong.
No "free" mail-in kits?
Free shipping does not exist. The customer always has to pay for these kits in one way or another.
Our goal is to offer you the most cash for your gold, and that is possible because we do not waste your money on prepaid envelopes and kits. Competitors that tempt you with so-called "free" mail-in kits make you pay not only for your kit, but also for all the ordered kits that are never sent in. Some cover these costs just by offering lower payouts while others may deceive their customers when weighing and testing the items. In this blog post, we compare what we paid a customer to what another gold buyer with "free" mail-in kits would have paid for the same items.
To sum it up: Despite her paying the shipping costs, she still earned $ 269 more for her jewelry by selling to us than she would have received had she fallen for the "free" mail-in kits from our competitors.
How can you send us your gold, silver or platinum?
With the help of our payout estimator, you can easily calculate the amount of money we will pay for your items. You will also receive a pre-filled shipping label that you can print and tape to your package. If you do not have access to a printer, you can also write the shipping address directly onto your package. Choose a carrier and service (we recommend Canada Post - Xpresspost with tracking) and send your jewelry, coins, bullion or scrap gold to:
TNGB LIMITED
PO BOX 22027 BIG BAY POINT
BARRIE ON L4N 0Z5
Quick cash for gold. Choose how you want to be paid.
Once your items arrive, they are unpacked, photographed, weighed and tested in our secure facility. We will send you a quote by e-mail and if you accept it, your payout will be released the same day. You can choose how to be paid. We offer e-Transfer (Email Money Transfer) or payment via cheque or wire transfer.
e-Transfer is the fastest payment option. You will immediately have the money available in your bank account.
Below you'll find a list of New Brunswick cities and towns such as Moncton, Saint John, Fredericton, Dieppe, Miramichi, Edmundston, Bathurst, Campbellton we service. Please note that our service is not limited to these areas: We buy your precious metals throughout New Brunswick and Canada.
NEW BRUNSWICK AREAS
WE SERVE
Gold buyer for all New Brunswick communities
Abegweit First Nation
Saint John
Moncton
Fredericton
Dieppe
Miramichi
Edmundston
Bathurst
Campbellton
Albert
Albert Mines
Allardville
Alma
Baie-Ste-Anne
Baker Brook
Balmoral
Bath
Belledune
Beresford
Blacks Harbour
Blackville
Boiestown
Bouctouche
Browns Flat
Campobello Island
Canterbury
Cap-Pele
Caraquet
Centreville
Chatham
Chipman
Clair
Clarks Corners
Cocagne
Dalhousie
Debec
Doaktown
Dorchester
Florenceville
Fords Mills
Fredericton Junction
Gagetown
Glassville
Grand Bay
Grand Falls
Grand Manan
Grand-Sault
Grande-Anse
Hampstead
Hampton
Harewood
Hartland
Havelock
Hillsborough
Hoyt
Jacquet River
Kedgwick
Keswick
Lamèque
Maces Bay
McAdam
Meductic
Memramcook
Millville
Minto
Miscou Island
Nackawic
Neguac
New Denmark
Norton
Oromocto
Paquetville
Perth-Andover
Petit Rocher
Petitcodiac
Plaster Rock
Port Elgin
Quispamsis
Red Bank
Richibucto
Riverview
Rogersville
Rothesay
Sackville
Salisbury
Shediac
Shippagan
Springfield
St Andrews
St-Antoine
St-Basile
St-Isidore
St-Louis de Kent
St-Quentin
St. George
St. Leonard
St. Martins
St. Stephen
Stanley
Ste-Anne-de-Madawaska
Summerville
Sussex
Tabusintac
Tobique First Nation
Tracadie-Sheila
Welsford
Westfield
Woodstock
Youngs Cove Road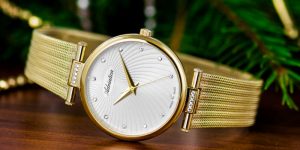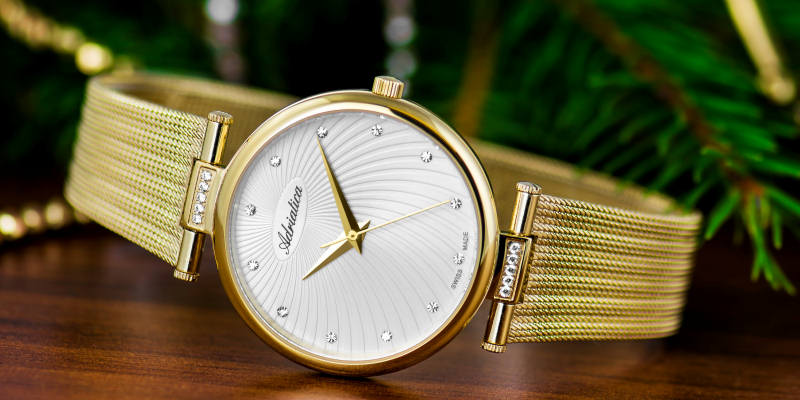 A watch is a timepiece that is made to be worn on a person. It is usually a wristwatch, worn on the wrist with a strap or bracelet. In addition to the time, modern watches often display the day, date, month and year, and electronic watches may have many other functions.
Most inexpensive and medium-priced watches used mainly for timekeeping are electronic watches with quartz movements. Expensive, collectible watches valued more for their workmanship and aesthetic appeal than for simple timekeeping, often have purely mechanical movements and are powered by springs, even though mechanical movements are less accurate than more affordable quartz movements.
Before the inexpensive miniaturization that became possible in the 20th century, most watches were pocket watches, which often had covers and were carried in a pocket and attached to a watch chain or watch fob. Watches evolved in the 1600s from spring powered clocks, which appeared in the 1400s.
Wristwatches are often appreciated as jewellery or as collectible works of art rather than just as timepieces. This has created several different markets for wristwatches, ranging from very inexpensive but accurate watches (intended for no other purpose than telling the correct time) to extremely expensive watches that serve mainly as personal adornment or as examples of high achievement in miniaturization and precision mechanical engineering.
Traditionally, men's dress watches appropriate for informal, semi-formal, and formal attire are gold, thin, simple, and plain, but recent conflation of dressiness and high price has led to a belief among some that expensive rugged, complicated, or sports watches are also dressy because of their high cost. Some dress watches have a cabochon on the crown and many women's dress watches have faceted gemstones on the face, bezel, or bracelet. Some are totally made out of facetted sapphire (corundum).
Many fashion and department stores offer a variety of less-expensive, trendy, "costume" watches (usually for women), many of which are similar in quality to basic quartz timepieces but which feature bolder designs. In the 1980s, the Swiss Swatch company hired graphic designers to redesign a new annual collection of non-repairable watches.