Your City of Toronto Gold Buyer
True North Gold Buyer Ltd., we are your gold, silver and platinum buyers for Etobicoke, North York, York, Old Toronto, East York, Scarborough and Canada wide. We offer top prices for your old gold, silver or platinum containing items and jewellery, such as rings, bracelets, necklaces, earrings, watches, coins, bars, silverware, crucibles, thermocouples or dental gold.
We pay top dollar for your precious metals containing material. As a part of our 100% satisfaction guarantee we will beat any other online silver, platinum or gold buyers offer for your jewellery, coins or scrap metal in the unlikely event that somebody will offer you a higher payout. You will see that a lot of our competitors only pay a fraction of your metals value, if you add up the numbers and to hide the fact, many of them do not even give you any up to date pricing until you have actually send your material in and would have to go to some hassle to get it back if you do not like their payout.
We put transparency and customer satisfaction first and therefore offer you a Payout Estimator that will give you a close estimation of what your payout is going to be – based on live precious metals market values. The only thing you need to know is the karat / precious metal content of your coins, jewellery or scrap metal and the weight – our estimator will do the rest. For detailed instructions on how to prepare your items for shipping & how to use the Payout Estimator please refer to our "How it works" section.
At True North Gold Buyer our main goal is to have satisfied, repeat customers – not one time deals taking advantage of customers that will never come back. We want to set us apart from the other known gold buyers and their bad reputation.
For your convenience, below you will find a list of Toronto neighbourhoods and towns areas we service. Our service is not limited to these areas. We will buy your precious metals all across Toronto, Central Ontario and Canada.
Gold buyer for all Etobicoke neighbourhoods
Alderwood
Centennial Park
Clairville
Eatonville
Eringate
Humber Bay
Humber Heights
Humber Valley Village
Humberwood
Islingon Village
Kingsview Village
Long Branch
Markland Wood
Mimico
New Toronto
Princess Ann Manor
Princess Gardens
Rexdale
Richview
Smithfield
Stonegate-Queensway
Sunnylea
The Elms
The Kingsway
The Queensway
Thistletown
Thorncrest Village
West Humber
West Deane Park
Willowridge
Gold buyer for all North York neighbourhoods
Amesbury
Armour Heights
Bathurst Manor
Bayview
Bermondsey
Black Creek
Branson
Bridal Path
Caribou Park
Clanton Park
Cricket Club
Don Mills
Don Valley Village
Downsview
Dublin Heights
Elia
Emery
Flemingdon
Glen Park
Graydon
Henry Farm
Hillcrest Village
Hoggs Hollow
Humber Summit
Humbermede
Humberlea
Jane and Finch
Lansing
Lawrence Heights
Lawrence Manor
Ledbury Park
Maple Leaf
Newtonbrook
Parkway Forest
Parkwoods
The Peanut
Pleasant View
Victoria Village
Westminster
Willowdale
Windfields
York Mills
Gold buyer for all York neighbourhoods
Baby Point
Briar Hill–Belgravia
Eglinton West, Little Jamaica
Fairbank, Caledonia
Humewood–Cedarvale
Lambton
Mount Dennis
Oakwood–Vaughan, Five Points, Northcliffe
Old Mill
Rockcliffe–Smythe
Silverthorn
Tichester
Weston
Gold buyer for all Old Toronto neighbourhoods
Downtown
Alexandra Park
The Annex
Baldwin Village
Cabbagetown
CityPlace
Chinatown
Church and Wellesley
Corktown
Discovery District
Distillery District
The Entertainment District
East Bayfront
Fashion District
Financial District
Garden District
Grange Park
Harbord Village
Harbourfront
Kensington Market
Little Japan
Moss Park
Old Town
Queen Street West
Regent Park
South Core
St. James Town
St. Lawrence
Toronto Islands
Trefann Court
University, Huron-Sussex
Yorkville
East End
The Beaches
East Danforth
Gerrard Street East, Little India
Greektown
Leslieville
Main Square
Playter Estates
Port Lands
Riverdale
Upper Beaches
North End
Bedford Park
Casa Loma
Chaplin Estates
Davisville Village
Deer Park, Yonge, St. Clair
Forest Hill
Lawrence Park
Lytton Park
Midtown
Moore Park
North Toronto
Rosedale
South Hill, Rathnelly
Summerhill
Wanless Park
Wychwood Park
Yonge–Eglinton
West End
Beaconsfield Village
Bloor West Village
Bracondale Hill
Brockton Village
Carleton Village
Corso Italia
Davenport
Dovercourt Park
Dufferin Grove
Earlscourt
Fort York
High Park
The Junction, Little Malta
Junction Triangle
Koreatown
Liberty Village
Little Italy
Little Portugal
Little Tibet
Mirvish Village
Niagara
Palmerston
Parkdale
Queen Street West
Roncesvalles
Runnymede
Seaton Village
Swansea
Trinity–Bellwoods
Wallace Emerson
Gold buyer for all East York neighbourhoods
Broadview North
Crescent Town
East Danforth
Pape Village
Woodbine Heights
Bermondsey
Governor's Bridge
Leaside
O'Connor–Parkview
Thorncliffe Park
Gold buyer for all Scarborough neighbourhoods
Agincourt
Armadale
Bendale
Birch Cliff
Birch Cliff Heights
Brown's Corners
Clairlea
Cliffside
Cliffcrest
Dorset Park
Eglinton East
Golden Mile
Guildwood
Highland Creek
Hillside
Ionview
L'Amoreaux
Malvern
Maryvale
Milliken
Morningside
Morningside Heights
Oakridge
Port Union
Rouge Hill
Scarborough City Centre
Scarborough Junction
Scarborough Village
Steeles
Tam O'Shanter – Sullivan
West Hill
West Rouge
Wexford
Woburn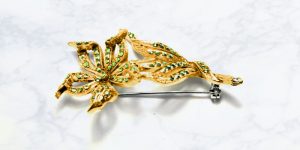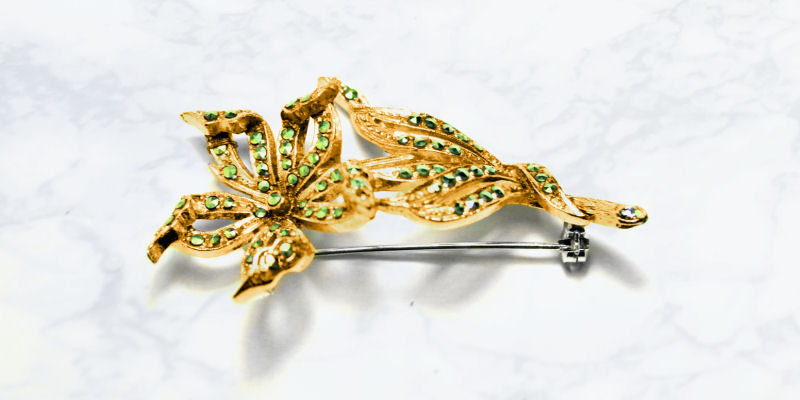 Brooch
A brooch also known in ancient times as a fibula, and more commonly referred to as a broach) is a decorative jewellery item designed to be attached to garments. It is usually made of metal, often silver or gold but sometimes bronze or some other material. Brooches are frequently decorated with enamel or with gemstones and may be solely for ornament (as in the stomacher) or sometimes serve a practical function as a fastening, perhaps for a cloak.
The earliest known brooches are from the Bronze Age. As fashions in brooches changed rather fast, they are important chronological indicators.
Fibula
The fibula or fibulae (plural) is an ornamental clasp used by Romans, Greeks and also by Celts and migratory tribes in Europe from the Early Bronze Age. They may have replaced fibulae made of more perishable Neolithic materials, such as bone to as late as 800 AD. Fibulae are useful type-objects: carefully catalogued local typologies, dating and distribution of fibulae can help date finds where neither numismatic nor ceramic materials provide a secure date. Fibulae were shaped somewhat like a large safety pin and were used to hold clothing together. They came in many varieties and held prominent significance for the identity of the wearer, indicating ethnicity (until local costume became Romanized) and class. Elaborately designed fibulae were an important part of Late Antique dress, and simpler ones were part of Roman military equipment.
The same types of fibulae can often be found on either side of the Roman limites, both among "Roman" and "barbarian" populations. The cultural interplay of elite objects designed to show status can be quite complex. For example, Lawrence Nees, Early Medieval Art notes fibulae depicted in ivory diptychs of Stilicho and his entourage:
"The type of fibula worn by Stilicho and his son, and by Turcius Secundus, occurs also among metal works of art commonly termed barbarian, as new Germanic figures usurped the symbols of imperial authority. It is likely that this type originated among Celtic groups and came to be adopted as an exotic fashion by Roman aristocrats, becoming 'naturalized' as an important Roman emblem, and then exported".
They were usually made of bronze and sometimes of precious metals and infrequently had encrusted gem stones. Eagle fibula, often worn in pairs, commemorate the worship of the Sun, common among the pagan tribes.