Your Niagara Gold Buyer
At True North Gold Buyer Ltd., we are your gold, silver and platinum buyer for Niagara Falls, Port Colborne, St. Catharines, Thorold, Welland, Fort Erie, Grimsby, Lincoln, Niagara-on-the-Lake, Pelham, Wainfleet, West Lincoln and Canada wide. We offer cash for gold, silver or platinum containing jewellery and other items, such as rings, bracelets, necklaces, earrings, watches, coins, bars, silverware, crucibles, thermocouples or dental gold.
Selling Gold to us is fast and easy. Use our Payout Estimator to calculate the payout you can expect to get for the items you want to sell based on current precious metals market prices. All you need to do is sort your items based on their karat / precious metals content, weigh them and put this data into our Payout Estimator. For detailed instructions on how to prepare and sell your gold to us, how to use our Payout Estimator and how to send in your items for appraisal, please have have a look at our "How it works" section.
For your convenience, below you will find a list of Niagara Region Communities and towns we service. Please keep in mind that our service is not limited to these areas. We will buy your precious metals all across Niagara, Central Ontario and Canada.
Gold buyer for all Grimsby neighbourhoods
Nelles
Casablanca & Area
Downtown
Grimsby Mountain
Grimsby Lakeside
Grimsby Beach
Park Road & Area
Gold buyer for all Fort Erie neighbourhoods
Lakeshore
Black Creek
Bridgeburg
NorthEnd
Victoria
Crescent Park
Crystal Beach
Point Abino
Ridgeway
Snyder
Stevensville
Amigari Downs
Bay Beach
Buffalo Heights
Douglastown
Edgewood Park
Erie Beach
Garrison Village
Mulgrave
Oakhill Forest
Ridgemount
Ridgewood
Rose Hill Estates
Thunder Bay
Walden
Wavecrest
Waverly Beach
Gold buyer for all Lincoln neighbourhoods
Beamsville
Campden
Jordan
Jordan Station
Pelham Union
Rockway
Tintern
Vineland
Gold buyer for all Niagara Falls neighbourhoods
Drummond
Queen Victoria
Elgin
Chippawa
Crowland
Grassybrook
Northwest
Westlane
Stamford
Beaverdams
Willoughby
Gold buyer for all Niagara-on-the-Lake neighbourhoods
Old Town
Glendale
Homer
McNab
Queenston
St. Davids
Niagara-on-the-Green
Virgil
Gold buyer for all Pelham neighbourhoods
Fonthill
South Pelham
Fenwick
Ridgeville
North Pelham
Effingham
Fenwich
Gold buyer for all Port Colborne neighbourhoods
Bethel
Cedar Bay
East Village
Elco Beach
Gasline
Humberstone
Lidsville
Lorraine
Nickel Beach
Pine Crest Point
Pleasant Beach
Sherkston
Sherkston Beaches
Shisler Point
Silver Bay
Stonebridge
Sugar Loaf
Three Bridges
Gold buyer for all St. Catharines neighbourhoods
Barbican Heights
Brock
Brockview
Bunting
Burleigh Hill
Carlton
Downtown St. Catharines
Facer
Fairview
Fitzgerald
Glenridge
Grantham
Kernahan
Lakeport
Lakeshore
Lancaster
Lock 3
Louth
Marsdale
Martindale
Merritton
Michigan Beach
Oakdale
Orchard Park
Port Dalhousie
Port Weller
Power Glen
Queenston
Riverview
Secord Woods
St. George's Point
The Haig
The North End
Vansickle
Western Hill
Gold buyer for all Thorold neighbourhoods
Thorold Proper
Thorold South
Allanburg
Confederation Heights
Beaverdams
Port Robinson
St. John's
Rolling Meadows
Turner's Corners
Gold buyer for all Wainfleet communities
Attercliffe
Beckett's Bridge
Belleview Beach
Burnaby
Camelot Beach
Chambers Corners
Long Beach
Morgan's Point
O'Reilly's Bridge
Ostryhon Corners
Perry
Wainfleet
Wellandport
Willow Bay
Winger
Gold buyer for all Welland neighbourhoods
Cordage
West Main
Market Square
Dain City
Eastdale
Welland South
Cooks Mills
Chippawa Park Area
Woodlawn
South Pelham
Seaway Mall Area
Niagara College
Gold buyer for all West Lincoln neighbourhoods
Abingdon
Allens Corner
Attercliffe
Basingstoke
Bismark
Boyle
Caistor
Caistorville
Elcho
Fulton
Gainsborough
Grassie
Kimbo
Port Davidson
Rosedene
Silverdale
South Grimsby
Smithville
St. Anns
Vaughan
Warner
Wellandport
Wilcox Corners
Winslow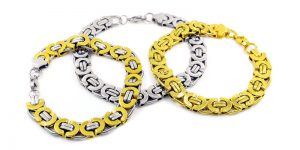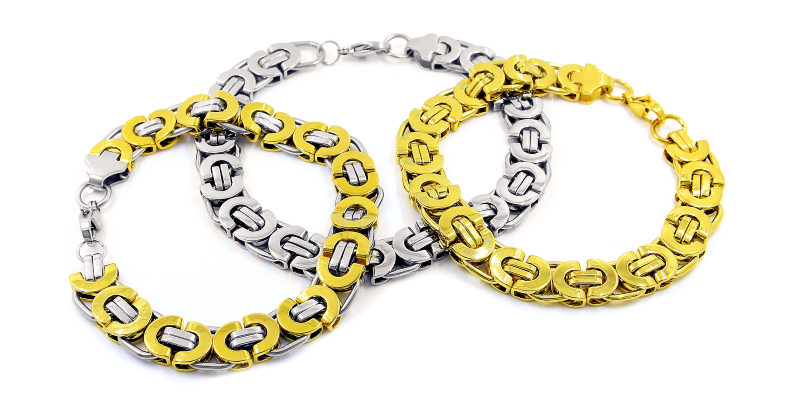 A bracelet is an article of jewellery which is worn around the wrist. Bracelets can be manufactured from leather, cloth, hemp, plastic or metal, and sometimes contain rocks, wood, and/or shells.
Origin
Although the term armlet may be technically similar, it is taken to mean an item that sits on the upper arm: an arm ring. The origin of the term 'bracelet' is from the Latin 'brachile' meaning 'of the arm', via the Old French 'barcel'.
Types of bracelets
Tennis Bracelet
The in-line thin diamond bracelet that features a symmetrical pattern of diamonds is called a tennis bracelet. According to Diamond Bug, in 1987 Chris Evert, the former World No. 1 woman tennis player and the winner of 18 Grand Slam singles titles, was playing in the U.S. Open. She was wearing an elegant, light in-line diamond bracelet, made by jeweler-to-the-stars George Bedewi which accidentally broke and the match was interrupted to allow Chris to recover her precious diamonds. The "tennis bracelet" incident sparked a new name for the item and sparked a huge jewelry trend. Tennis bracelets continued to be worn by various tennis stars like Serena Williams and Gabriela Sabatini.
Charm bracelet
A charm bracelet is an item of jewelry worn around the wrist. It carries personal charms: decorative pendants or trinkets which are signifiers of important things in the wearer's life. In recent history, Italian charm bracelets have become trendy. While traditional charms dangle, Italian charms feature individual pieces soldered flat onto the surface of the link.
Link bracelets
Bracelets made from connecting or linking various or similar components or jewellery findings. Link bracelets can be made of a variety of materials included metals and gemstones.