Your New Brunswick Gold Buyer
True North Gold Buyer Ltd., we are your gold, silver and platinum buyers for Moncton, Saint John, Fredericton, Dieppe, Miramichi, Edmundston, Bathurst, Campbellton and Canada wide. We offer you top prices for your old gold, silver or platinum jewellery or any other gold, silver or platinum containing items, such as rings, bracelets, necklaces, earrings, watches, coins, bars, silverware, crucibles, thermocouples or dental gold.
Get started now using our Payout Estimator to get a close estimate of the payout you can expect for your precious metals. All you need to know to get started is the karat / precious metals content of your items and their weight. You can find detailed instructions on how to sort and weigh your items, use our Payout Estimator and send them in for an appraisal in our "How it works" section.
For your convenience, below you will find a list of New Brunswick cities and towns we service. Please keep in mind that our service is not limited to these areas. We will buy your precious metals all across New Brunswick and Canada.
NEW BRUNSWICK AREAS
WE SERVE
Gold buyer for all New Brunswick communities
Abegweit First Nation
Saint John
Moncton
Fredericton
Dieppe
Miramichi
Edmundston
Bathurst
Campbellton
Albert
Albert Mines
Allardville
Alma
Baie-Ste-Anne
Baker Brook
Balmoral
Bath
Belledune
Beresford
Blacks Harbour
Blackville
Boiestown
Bouctouche
Browns Flat
Campobello Island
Canterbury
Cap-Pele
Caraquet
Centreville
Chatham
Chipman
Clair
Clarks Corners
Cocagne
Dalhousie
Debec
Doaktown
Dorchester
Florenceville
Fords Mills
Fredericton Junction
Gagetown
Glassville
Grand Bay
Grand Falls
Grand Manan
Grand-Sault
Grande-Anse
Hampstead
Hampton
Harewood
Hartland
Havelock
Hillsborough
Hoyt
Jacquet River
Kedgwick
Keswick
Lamèque
Maces Bay
McAdam
Meductic
Memramcook
Millville
Minto
Miscou Island
Nackawic
Neguac
New Denmark
Norton
Oromocto
Paquetville
Perth-Andover
Petit Rocher
Petitcodiac
Plaster Rock
Port Elgin
Quispamsis
Red Bank
Richibucto
Riverview
Rogersville
Rothesay
Sackville
Salisbury
Shediac
Shippagan
Springfield
St Andrews
St-Antoine
St-Basile
St-Isidore
St-Louis de Kent
St-Quentin
St. George
St. Leonard
St. Martins
St. Stephen
Stanley
Ste-Anne-de-Madawaska
Summerville
Sussex
Tabusintac
Tobique First Nation
Tracadie-Sheila
Welsford
Westfield
Woodstock
Youngs Cove Road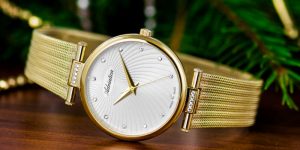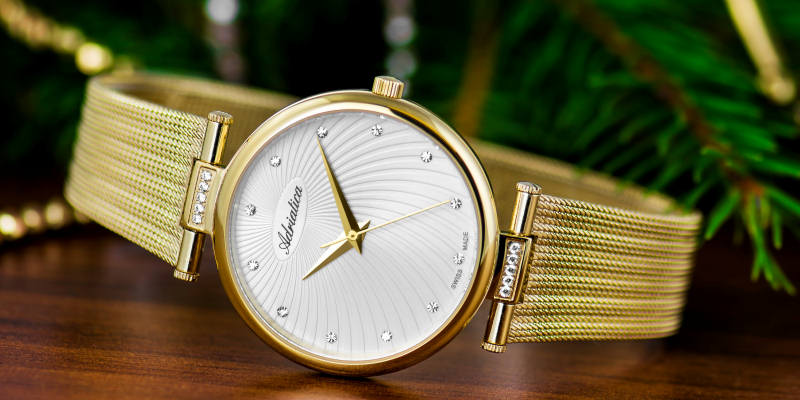 A watch is a timepiece that is made to be worn on a person. It is usually a wristwatch, worn on the wrist with a strap or bracelet. In addition to the time, modern watches often display the day, date, month and year, and electronic watches may have many other functions.
Most inexpensive and medium-priced watches used mainly for timekeeping are electronic watches with quartz movements. Expensive, collectible watches valued more for their workmanship and aesthetic appeal than for simple timekeeping, often have purely mechanical movements and are powered by springs, even though mechanical movements are less accurate than more affordable quartz movements.
Before the inexpensive miniaturization that became possible in the 20th century, most watches were pocket watches, which often had covers and were carried in a pocket and attached to a watch chain or watch fob. Watches evolved in the 1600s from spring powered clocks, which appeared in the 1400s.
Wristwatches are often appreciated as jewellery or as collectible works of art rather than just as timepieces. This has created several different markets for wristwatches, ranging from very inexpensive but accurate watches (intended for no other purpose than telling the correct time) to extremely expensive watches that serve mainly as personal adornment or as examples of high achievement in miniaturization and precision mechanical engineering.
Traditionally, men's dress watches appropriate for informal, semi-formal, and formal attire are gold, thin, simple, and plain, but recent conflation of dressiness and high price has led to a belief among some that expensive rugged, complicated, or sports watches are also dressy because of their high cost. Some dress watches have a cabochon on the crown and many women's dress watches have faceted gemstones on the face, bezel, or bracelet. Some are totally made out of facetted sapphire (corundum).
Many fashion and department stores offer a variety of less-expensive, trendy, "costume" watches (usually for women), many of which are similar in quality to basic quartz timepieces but which feature bolder designs. In the 1980s, the Swiss Swatch company hired graphic designers to redesign a new annual collection of non-repairable watches.