Your Northern Alberta Gold Buyer
True North Gold Buyer Ltd., we are your gold, silver and platinum buyers for Grand Prairie, Cold Lake, Wood Buffalo, Whitecourt, Slave Lake, Peace River, Bonnyville, St. Paul and Canada wide. We offer top prices for your old gold, silver or platinum containing items and jewellery, such as rings, bracelets, necklaces, earrings, watches, coins, bars, silverware, crucibles, thermocouples or dental gold.
We pay top dollar for your precious metals containing material. As a part of our 100% satisfaction guarantee we will beat any other online silver, platinum or gold buyers offer for your jewellery, coins or scrap metal in the unlikely event that somebody will offer you a higher payout. You will see that a lot of our competitors only pay a fraction of your metals value, if you add up the numbers and to hide the fact, many of them do not even give you any up to date pricing until you have actually send your material in and would have to go to some hassle to get it back if you do not like their payout.
We put transparency and customer satisfaction first and therefore offer you a Payout Estimator that will give you a close estimation of what your payout is going to be – based on live precious metals market values. The only thing you need to know is the karat / precious metal content of your coins, jewellery or scrap metal and the weight – our estimator will do the rest. For detailed instructions on how to prepare your items for shipping & how to use the Payout Estimator please refer to our "How it works" section.
At True North Gold Buyer our main goal is to have satisfied, repeat customers – not one time deals taking advantage of customers that will never come back. We want to set us apart from the other known gold buyers and their bad reputation.
For your convenience, below you will find a list of Alberta areas areas we service. Our service is not limited to these areas. We will buy your precious metals all across Alberta and Canada.
Gold buyer for all Northern Alberta neighbourhoods
Grande Prairie
Wood Buffalo
Athabasca
Beaverlodge
Fairview
Falher
Fox Creek
Grande Cache
Grimshaw
High Level
High Prairie
Manning
McLennan
Peace River
Rainbow Lake
Sexsmith
Slave Lake
Spirit River
Swan Hills
Valleyview
Wembley
Berwyn
Boyle
Donnelly
Girouxville
Hines Creek
Hythe
Nampa
Rycroft
Bondiss
Island Lake
Island Lake South
Mewatha Beach
South Baptiste
Sunset Beach
West Baptiste
Whispering Hills
Mackenzie County
Fort Chipewyan
Fort McMurray
Athabasca County
Big Lakes County
Birch Hills County
Clear Hills County
Fairview
Clairmont
Greenview
Lac La Biche County
Lesser Slave River
Northern Lights
Northern Sunrise County
Wabasca
Peace
Saddle Hills County
Smoky River
Spirit River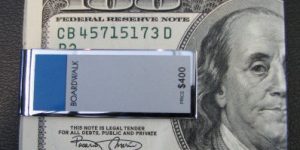 A money clip is a device typically used to store cash and/or credit cards in a very compact fashion for those who do not wish to carry a wallet.
Metal money clip
A metal money clip is generally a solid piece of metal folded into half, such that the bills and credit cards are securely wedged in between the two pieces of metal. Metal money clips are typically made out of stainless steel, silver, gold, titanium, or platinum. They are typically sold as luxury items. The chief disadvantage of a metal money clip is that, due to the inflexibility of the metal, it cannot typically hold large amounts of cash. Depending on the design, it may also be difficult to push the bills into the clip. Money clips fabricated from titanium can to a great degree overcome these technical limitations that many metals have. This is due to the greater flexibility of the titanium. The flexibility allows for greater capacity (without stretching out)and also requires less "spring tension" in the closed position. Titanium also has excellent resistance to cracking and fatigue and does not wear out or fatigue like many types of metal money clips can over time.